CardValet – Access. Control. Anytime. Anywhere.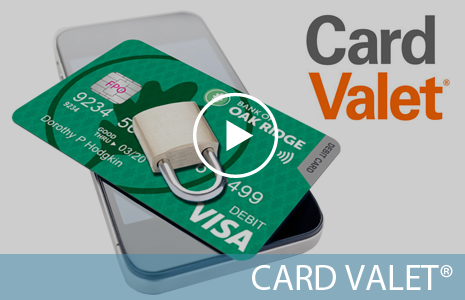 As a Bank of Oak Ridge client, you now have access to CardValet, the free feature that allows you to turn your Bank of Oak Ridge personal or business and HSA debit cards on and off, anytime, anywhere.
Signing up is easy as 1, 2, 3! Download the Bank of Oak Ridge mobile app and follow the step-by-step instructions. *Available at the Apple and Android stores only.
What can you do with CardValet?
Turn your card off and on
Set locations where the card can be used
Restrict transactions based on merchant type
Establish transaction amount limits
Schedule alerts for certain transaction types
Traveling: Traveling to Paris for a week? Ensure your card is safe by limiting your CardValet radius to the area you are traveling. Whether it's across the world or across the state, you are in control.
College Bound – Merchant: Is your son or daughter off to college? Did you give them a Bank of Oak Ridge debit card for groceries? Now you can limit their transactions by merchant category, to ensure they are only using the card for groceries.
College Bound – Spending Limit: You gave your kid a $100 per transaction spending maximum while at school, but they called because they need to purchase a new computer. Now you can temporarily change their spending limit during the specified period and return the spending limit back after the purchase without leaving your couch.
Misplaced Card: Not sure where you left your card? No worries. Now you can shut off all transactions from your phone, and switch it right back on when you find your card again.
Business Spending: Do your employees have business cards? Keep an eye on spending with alerts and spending limits. Need to turn off immediate access to an employees card? Now you can do so instantly with CardValet.
How to Get CardValet on your Mobile Device
Go to the Google Android or Apple iPhone app store.
Search CardValet and download the free mobile app.
Follow the prompts and use your card to enter the requested information.
Login and start using CardValet!
Need help registering your card(s)? Visit one of our convenient locations or call one of our Client Connect representatives at 336-644-9944.
Want to learn more? Read the CardValet FAQs, like:
Now is the perfect time to download the mobile app at Google Play or the App Store, and have even more control over your card with CardValet.
*Messaging and data rates may apply. Check with your mobile service provider for details on associated fees and charges.