Online Banking and Bill Pay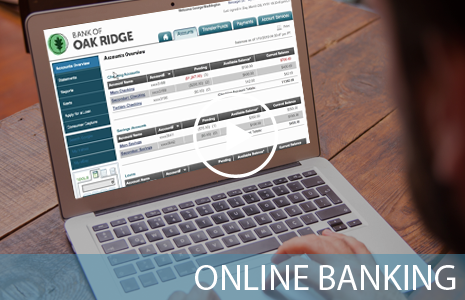 24/7 Banking and Bill Pay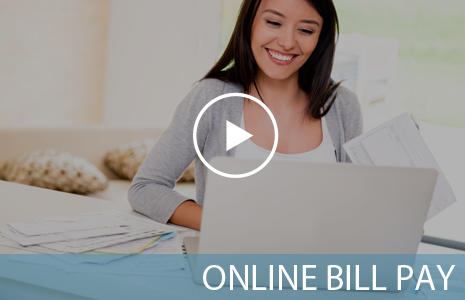 With Bank of Oak Ridge, bank 24/7 anytime, anywhere with free Online Banking for your personal accounts.
Do all your banking in minutes with Online Banking. You can monitor account balances, view transactions, transfer funds between accounts, and download your information into Microsoft Money or Quicken. With our optional bill pay feature, you can even pay your bills online.
Enroll in Online Banking
To enroll in personal Online Banking, complete our online enrollment form. Once you complete our online form, you will receive an email confirmation within one to three business days.
For more information, call Client Connect at 336-644-9944, use our online contact form, or stop by one of our convenient Triad office locations.
Web access is required to use Online Banking. Check with your Internet service provider for details on associated fees and charges.
Online Bill Pay is Simply the best way to manage your payments.
Bill Pay with Popmoney® makes it a breeze to pay the companies that send you bills – or just about anyone else, too. It's simply the best way to manage your payments. Bill pay is available on your mobile app and mobile browser too!

Pay Virtually Anyone. From the local bakery to a Fortune 500 Company, even your babysitter.
Send Money to Friends and Family. Pay People with Popmoney. All you need is their email address or cell phone number. Learn more about Popmoney by clicking here.
Same Day/Next Day Payments. Payments can often be received in as little as one business day, even that same afternoon if necessary.
Group Payments into Categories. Organize your utilities, cable and phone into a folder named household.
Account to Account Transfers. Even accounts at other financial institutions. Your money is always available, regardless of where you keep it.
Receive eBills. Green, more convenient, more secure and easier to manage.
Reminders. Receive updates through email when you receive a bill, or when it's due.
Automatic Payments. Great for bills that stay the same each month, like your rent and your car loan.
Search Bill History. Search by company, date and status, the moment you need an answer, wherever you are.
Message Center. Get quick answers to questions you might have.
Completely safe. More secure than mailing paper checks.